Japanese companies have a long history of making high quality fountain pens, which shouldn't be a surprise when you consider Japan's art and writing culture. In fact the big 3 companies (Pilot, Platinum & Sailor) started at the turn of the 20th century, long before many of the famous European & American brands.
In the fountain pen collecting world they rank right up there with the top western brands like Montblanc, Pelikan, Waterman & Parker for quality and they have a reputation for incredible attention to detail and very high quality nibs. The nibs on Japanese pens tend to be sized a little thinner than the equivalent Western nibs but the differences are very slight. 
In common with most Asian fountain pen makers, their most popular sellers in Japan are at the Fine end of the spectrum. This is due to the complex nature of their kanji characters, which require many subtle strokes to form. Using a broad nib is fine with simple phonetic characters like the Western Latin alphabet so European tastes tend to be around Medium. 
Once you have seen a few of the pens you'll notice that the vast majority of base products from all companies are black with either gold or chrome trim. This means they all look very similar and there's no indication on the outside which nib size each pen has, so users tend to leave the little labels on the barrel which show the nib. 
Pilot
Established 1918. Web: Pilot Corporation of Europe (pilotpen.eu)
Pilot nib types below:
Normal nibs:

EF = extra fine, F = fine, SF = soft fine, FM = fine medium, SFM = soft fine medium, M = medium, SM = soft medium, B = broad, BB = double broad.
Soft nibs usually give a little line variation but not as much as the Falcon nib. 

Speciality nibs: 

PO = Posting – equivalent in line width to the Platinum Ultra Extra Fine but designed for smooth writing. Where traditional nibs get scratchy as they get finer, the Posting nib should be smooth when used for cursive writing. It was originally designed for writing on post-cards where the sender wanted to pack as much text as possible in a small space! 
C = Coarse – wider than BB and rounder – writes almost like a marker pen!
SU = Stub – a normal stub pen with thicker down strokes and thinner horizontal strokes
MS = Music – a slightly soft stub 1.5mm with fairly sharp edges for an italic style of writing. To deliver a good volume of ink it has 2 slits, giving 3 tines.
FA = Falcon – a very soft, flexible nib for calligraphy and copperplate with lots of line width variation
WA = Waverley – a special nib that writes at any angle – very useful for taking out and about when you might have to write notes quickly in a notebook on the move

Converters:

CON-40 – a 40ml piston-type converter that fits most of the smaller pens and replaces the 50ml CON-50 and 20ml CON-20
CON-70 – a 70ml push-button type converter that fits the larger pens, such as the 74
A useful page showing all Custom Heritage nibs.
78g
[demonstrator but also solid colours, #5 nib]
This is the most basic of the Pilot offerings but not the smallest in stature – that would be the Prera, below. The 78g has been going for a long time and provides a nice, cheap entry-level pen that writes well but is made from cheaper materials, like a Platinum Preppy, aimed at student use.
Prera Iro-Ai 
[capped size: 13 x 120mm]
This is almost a pocket pen and I find it hard to use for any length of time without posting it. It's certainly a very nice pen but I have quite large hands and so prefer something that's better balanced and posting makes it feel a lot nicer. A CON-70 converter fits nicely and looks better than cartridges.
Elite / E95S
This is a lovely example of what's called a "pocket pen" – an extremely short, ultra portable pen designed to be posted (with the cap on the back end) to make it fit in the hand comfortably. I've never liked posting caps because they tend not to fit comfortably on other pens but the push (not screw) capping/uncapping and posting experience on this pen is buttery smooth and very firm. With the cap posted it feels like a full-sized pen and it has a 14k gold nib so it's aimed at the high-end  market.
The low ink capacity is a bit of a disadvantage but this pen isn't for writing all your journals – it's just for taking quick notes on the move. This pen needs Pilot ink cartridges or a CON-40 converter. There's a lot of mixed opinion on the CON-40 converter and many don't like it because it's very small and a bit flimsy. They instead use Pilot cartridges and then wash  them out and refill them with syringes because this gives a bigger capacity. Also, with the CON-40 the ink chamber disappears into the pen barrel making it impossible to see how much ink is left without removing the converter, and that would get messy! 
Celemo
This used to be the cheapest pen in the Pilot lineup with a gold nib. It is a primarily plastic construction whiich gives it a similar feel to something like the Montblanc 320. It takes cartidges or converters but due to the narrow construction you can only use a short converter like a CON-40, which isn't very well liked. I chose to reuse an old empty cartridge and just refilled that with Iroshizuku ink.
Custom Series
The Custom line was always intended to have the quality of a pen that had been made for the user personally. The model numbering system is a bit complicated to work out but in general terms there is the 74* line with traditional gold trim and the 9* line with a more modern rhodium plated trim. Both lines carry a 14k gold nib. In the higher 845 and Urushi lines you get 18k nibs. 
Ones with rounded ends are traditionally just called Custom while flat ended ones are called Custom Heritage.
Custom 74
[capped size: 11.6 x 142mm, nib: 14k #4 EF F SF FM SFM M SM B BB C MS]
This is the most accessible/cheapest pen in the CH range – I have it in <SM> (soft medium) & <F> nibs. It writes very well but I'm not a huge fan of the <SM> nib – it's lovely and soft with a fair bit of line variation, but I tend to prefer an <F> nib. It's an extremely popular pen and they produce it in a very wide range of nibs to accomodate anyone's tastes and needs. It takes Pilot cartridges or a CON-70 converter. 
Custom 742
[nib: 14k #10 EF F SF FM SFM M SM B BB C MS PO FA WA SU]
This is a slightly higher-end version of the Custom 74 but with a #10 14k gold nib – it's not a higher karat of gold but it is a bigger nib, which is usually preferred by keen writers. The range of nibs is even larger though with some specialist designs, like the Waverley, Falcon, Posting & Stub. It takes Pilot cartridges or a CON-70 converter. 
Custom 743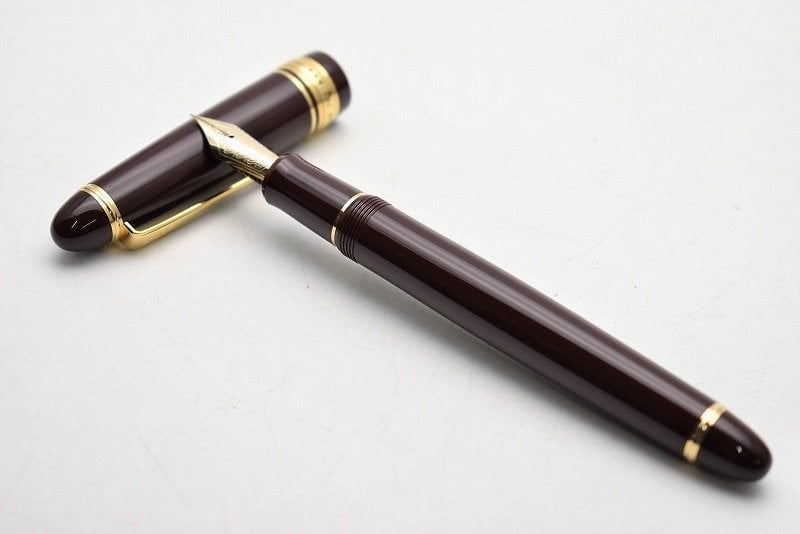 [nib: 14k #15 EF F SF FM SFM M SM B BB C PO FA WA SU]
This is basically a 742 but with a slightly larger #15 14k gold nib … still in 14k gold. In this model they ditched the Music nib as an option. It takes Pilot cartridges or a CON-70 converter. 
Custom 823
[capped size: 12.5 x 149mm, nib: 14k F M B]
This pen has been on my personal wishlist ever since I bought the Chinese copy, the WingSung 699. It's a big pen, and very comfortable in my large hands, but it has a lovely large nib that's very smooth to write with. The vacuum filling system is also extremely easy to use and gives a huge ink reservoir so you can write to your heart's consent without having to refill for a long time. 
It comes in 3 transparent, demonstrator colours – clear, brown and black, all with gold trim. My personal favourite, and the most popular seller is the brown but the clear is also beautiful and you get to see the natural colour of all that lovely ink! 
Custom Heritage 91
Unlike the 7* series, which all have the classic rounded ends on the cap and barrel with gold fittings, the 91* series have a more modern-looking design with flat ends, chrome fittings and solid-coloured bodies. They take Pilot cartridges or a CON-70 converter.
[capped size: 15 x 137mm, nib: 14k #5 EF F SF FM SFM M SM B BB]
Custom Heritage 92
[capped size: 15 x 137mm, nib: 14k #5 F FM M B]
The 92 is just like a 91 but they have transparent bodies and are unique for Pilot in having a piston filling system. 
Custom Heritage 912
[capped size: 16 x 140mm, nib: 14k #10 EF F SF FM SFM M SM B BB C MS PO FA WA SU] 
This is an updated version of the 91 with a larger #10 nib. It takes Pilot cartridges or a CON-70 converter. 
I have this pen in the <WA> Waverley and <FA> (Falcon) flexible nibs. Waverley nibs are designed to write in all kinds of hand positions and be incredibly tolerant and is supposed to write in any orientation. When you pick up and uncap a fountain pen you always have to turn the pen in your hand until the nib is the right way round and if you are writing on a slope, or on your knees, you have to usually adjust your writing angle to get the nib into the right position, but with a Waverley it should write perfectly without any of that fuss. The only real downside is apparently the slight line-width variation you get with them if you hold the pen at different angles, but I've foudn mine to write very adequately.
Here is the Waverley nib in close up – you can see it has a rounded Medium/Fine tip with a slight upturned look to it. 
Falcon nibs are extra soft fine nibs that give good line width variation because the tines spread apart when the writer applies pressure to the nib. This is very popular among calligraphers and writers who want to inject style and flourish into their writing because it mimics the behaviour of a feather pen. I must say they make it look very easy but when you try yourself, like in so many skilled things, you find that it's very difficult! 
845 and Urushi
These are the largest and most expensive models that Pilot produce and both use an 18k gold #15 nib and can take a CON-70 converter or Pilot cartridges. 
Elabo / Falcon
This is an interesting pen that I was expecting to have a true flex nib but it actually writes like a soft-fine and this is backed up by most users and reviews. That said, it is a very nice pen to use and the nib gives a reasonable amount of line variation.
It's a nice pen but if you want to get lots of beautiful line variation then I would go for the Pilot Custom Heritage 912 FA.
Grandee
This is a discontinued model of extra fine pen, which was popular in the 1990s. The Urushi lacquer on this is the premium finish for this model and the nib shape also puts it as an early pen. 
I particularly like thisi pen – it's got real substance from the brass construction and feels like a high quality pen in the hand. The nib is lovely and smooth too and the cap has a wonderful soft closing feel with a satisfying click.
Namiki
Web: Maki-e fountain pen|Namiki (pilot-namiki.com)
You'll often see higher-end pens given the name Namiki or Pilot Namiki. This was the name that Pilot gave the brand/company that made their higher quality products for export. These pens usually feature very laborious and time consuming Urushi or Maki-e work and so the pens are not mass-produced. 
Platinum
Established 1919. Web: Platinum Pen Top | プラチナ万年筆 (platinum-pen.co.jp)
Preppy
This is the entry level pen from Platinum – the student pen, if you like. But contrary to what you might expect, they are actually lovely little writers. The plastic can be a bit prone to cracking so you have to take care of them but they are incredibly cheap and they make great starter pens. If left in a drawer for months they invariably write first time too so the caps seal and the nibs & feeds flow well. 
Preppy Wa
This is a limited edition version with some nice natural designs in the style of maki-e, a traditional Japanese decorative art form. It's not real maki-e (that is painstaking and items sell for many hundreds or thousands of pounds) but the style of the designs is very pleasant and very Japanese.
Make-e is a style of decoration with bright colours and powdered gold, all encased in layers of lacquer.  
#3776 / Century
[capped size: 15.4 x 139.6mm, nib: 14k]
The #3776 was apparently so named because it's the height in metres of Mount Fuji, the highest peak in Japan and a national spiritual emblem. It's a very suitable name for the company's flagship pen. The Century were all fitted with the new slip n seal cap, which has a spring loaded liner that stops the nib from drying out. 
#3776 vintage, pre slip n seal
#3776 Balance
[capped size: 14 x 136mm, nib: steel]
This is the small version of the #3776 called the "Balance", which has a steel nib but it is still a #6 size nib and is a lovely smooth writer. I have this in a <F> nib and I have paired mine with the classic Platinum Carbon Black ink, primarily because I had an unused box of ink cartridges that needed using but the ink is wonderful and I love the strong graphite sheen. These do not have the slip n seal cap.
Sailor
Web: Sailor Pen
Pro Color
This is a steel nibbed, entry level pen which seems to mirror the 1911 series. 
Sailor Hoscal
This is a now discontinued very slim, brass barrelled pen.
1911/Profit
The 1911 series was so named because it was the year that the Sailor pen company was founded. There is a little confusion about the naming though because in Japan the same pen is called the "Profit". The range has 2 sizes (standard and large) which have 14k and 21k nibs respectively. All are cartridge / converter pens but each has a piston filler version called the "Realo". 
Standard 1911 14k 
[capped size: 14.9 x 135mm, nib:14k]
Standard 1911 Slim Profit
This is a now discontinued version of the 1911/Profit standard sized pen with a thinner profile.
Standard 1911 Profit 21k 
[capped size: 14.9 x 135mm, nib:14k]
Large 1911 21k 
[capped size: 21k 16 x 141mm]
Professional Gear 
This is a Sailor Pro Gear Slim Shikiori in Sky Blue
[capped size: 16 x 128mm]